FEMTEC: Career Building Program for female* STEM students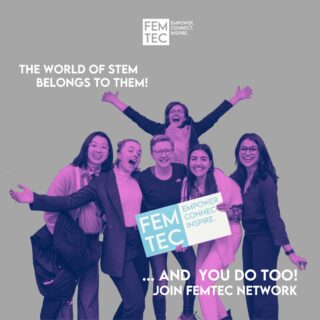 The beginning of this new semester can also mark the start of something new for you! The FAU offers a scholarship that allows you to pursue continuous development alongside your studies and provides access to a strong, lifelong network. With the English-language Career-Building Programme, the FAU connects you with other female* STEM enthusiasts and bring you closer to your personal and professional goals. The FAU supports you in systematically planning your individual career development and pave the way for a successful entry into a fulfilling professional life!
Together with other participants, you will develop forward-thinking solutions for the challenges of tomorrow. The FAU accompanies you for one year and implement the program in three schools, with exciting modules that are relevant for you today and tomorrow:
Career Development
Innovation and Co-Creation
Building Networks
A highlight of the program is the Innovation Lab, which is realised in collaboration with one of our partner companies. Become part of a network that has existed for more than 20 years and gain exclusive insights into the working world of renowned companies, attractive entry options, and plenty of empowerment!
You can apply online until the 5th of November 2023. Further details about the programme and application can be found at https://my.career-building.org. Or you can attend the information session on 27th of October at 3pm (register via StudOn: https://www.studon.fau.de/crs5403735.html), where you can gain insights through direct exchange with current Femtec scholarship holders.
A nationwide online information session by Femtec and current Femtec scholarship holders will occur online on the 30th of October at 6 p.m.
Feel free to contact Nicole Jacob if you have any questions: femtec@fau.de
*Femtec strives for gender equality, not just for cisgender women but all underrepresented genders, and embraces diverse backgrounds and experiences.